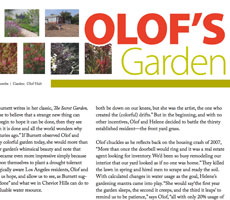 Katrina Coombs is the featured garden writer once again in the February 2015 issue of Cheviot Living magazine. The article, Olof's Garden, is an exposé on Olof and Helene Hult's wildly colorful and thoughtfully planned drought tolerant garden. Cheviot Living Garden

See Katrina at the Los Angeles Dwell on Design 2012, Saturday June 23rd. Outside InStyle is presenting with the APLD Professionals.
Outside InStyle Cheviot Hills Mediterranean landscape design featured in eHow swale and fountain instructional videos.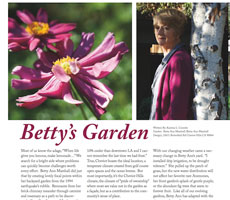 Katrina Coombs, Los Angeles Landscape Designer and Principal of Outside InStyle Landscape Design is a featured Garden Writer in the December 2014 Cheviot Hills Living Magazine.  She writes that with thoughtful planting during Southern California's drought, a lovely garden is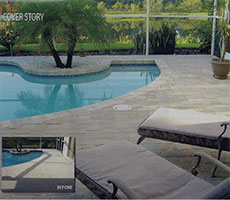 Katrina Coombs (owner of Outside Instyle) was recently quoted in a Landscape & Hardscape Design-Build cover-story. Landscape professionals can also rescue and reuse landscape plants and trees. Katrina Coombs, owner of Outside Instyle, a Los Angeles-based sustainable landscape design company,